2020 has got in to its tired old stride, but it's a good time look back on the art year that was with a coolly reflective gaze: these are the exhibitions that worked (and one that decidedly didn't), plus a look ahead to what I think will be unmissable. Life and art carries on
5 Feb to 6 May
A huge survey of the veteran war photographer and photojournalist that was staggeringly impressive. Even those familiar with his oeuvre (we've not been short of smaller McCullin surveys in recent years), Tate's brilliantly curated exhibition still felt fresh and urgent: both totally compelling and appalling for the human devastation it framed. McCullin has been an eyewitness to conflicts from Biafra to Cyprus to Northern Ireland, and the exhibition was organised in chapters, covering every conflict witnessed on the most human of levels, as well as the devastating deprivation witnessed closer to home. What perhaps marks him out as one of the greats is an inescapable sense of empathy. It draws us into the moment, however difficult, and this really has to be the single most powerful photography exhibition I think I've seen. What's great is that from June you can see the exhibition at Tate Liverpool.
18 Jun – 22 Sep
Everyone's who's heard of Impressionism has heard of Berthe Morisot, right? But though the name might ring a bell, what of her paintings? What can we actually say about her work? Was this exhibition a case of  'Well, she's a woman so we'll give her an exhibition since it is, after all, 2019'? Although we may be more familiar with Morisot's face through the brilliant portraits of Manet, who was her brother-in-law (she was one of his favourite sitters), it's an injustice that her work simply hasn't been given its due. She was a truly innovative painter of incredible talent, and it's our loss that she hasn't had a solo exhibition in the UK. But her native city embraces her – as does Canada and the US, from which this exhibition travelled. Her paintings are intimate portrayals of domestic life, echoing the modern idea of painting the commonplace and the everyday. But it's her technique that's thrilling – very loose, rapid brushstrokes, with often dramatically unpainted areas of canvas, which was typical of her later paintings. Stylistically, one can see glimpses of the later boldness of Toulouse Lautrec.  So seductive and just, well, wonderful.

Dorothea Tanning, Tate Britain
27 Feb to 9 Jun
Dorothea Tanning was a surrealist painter, printmaker, sculptor, filmmaker, poet and short story writer. And though I can't attest to her talent in the latter two, she certainly excelled at all the others. Her paintings are exuberant fantasies, both thrillingly erotic and arrestingly theatrical, though, it must be said, with a tendency for kitsch in later years (though even then I'm not sure that was all together bad in her case). But even so, what unflagging energy and spark, what a feverish imagination, what unsettling mises en scène. An American, she was at the heart of the European Surrealist movement (she was married to Max Ernst) and was inspired by illustrators such as the fantastical and brilliant prints of Gustave Doré. She also created the most creepily ambiguous, amorphous, erotically suggestive sculptures in fabric (there was definitely some creative, symbiotic thing going on with Louise Bourgeois). The piece de resistance of the exhibition was the installation Hôtel du Pavot, Chambre 202, 1970-73 (pictured), where it seems you may have entered one of the hotel rooms in American Horror Story: fleshy female forms erupt through walls, or are perhaps sucked into them by some supernatural force or pulled in by darkly unfathomable creatures with long, furry limbs, while twisted and etiolated limb- or tail-like pertuberances extrude from chair or fireplace. Loved it.
Edvard Munch: Love and Angst, British Museum
11 Apr to 21 Jun
Love him, love him not, love him, love him not, love him…. That about sums up my relationship with neurotic Norwegian artist during the span of my art-appreciating life. Predictably, as a teenager, I loved him, then learned to dismiss my adolescent crush, but always kept coming back for more. The Munch survey of 2012 – that long ago – at Tate Modern (reviewed here) was good, but somewhat uneven. It showed the breadth of his work, and also his obsessions and constant reworkings of favoured motifs: the vamp, the sick child, the lone couple looking out to sea. By contrast, the British Museum's exhibition focused on Munch's printmaking, particularly Munch's woodcuts where you can admire both technique and a phenomenally powerful visual imagery,  Compact works, beautifully contextualised, utterly memorable.
Lawrence Abu Hamdan, Turner Prize 2019, Turner Contemporary
28 Sep to 12 Jan
I was disappointed when Forensic Architecture, with whom Lawrence Abu Hamdan has carried out investigative work, didn't win the Turner Prize the previous year (my review of Turner Prize 2018 here). The ICA's exhibition of their work, for which they'd, in part, been nominated, was a phenomenal display of their complex advocacy work (with bodies such as Amnesty International), impressively told through a myriad of visual and narrative means. And though I rated the other artists in the line up (in particular, Helen Cammock's film of women activists during the Northern Irish civil rights protests was deeply impressive), it was Abu Hamdan's nomination that I particularly welcomed. And so I was thrilled that he made such a powerful contribution to the exhibition. The film documenting his work with former prisoners in Syria's Sednayer prison was far less 'documentary', more an aptly aural and poetic exploration of sound and its effects on prisoners who'd been tortured and kept blindfolded and isolated throughout their time in captivity, and it was powerfully informed by their individual testimonies.
Lee Krasner: Living Colour, Barbican Art Gallery
30 May to 1 Sep
Talk about an overdue survey of this great American artist. Until now, Krasner has been a far bigger name stateside than she has been in the UK. She was the first woman to be given a retrospective at the Museum of Modern Art, New York, which opened just six months after her death in 1984 (it had been touring in the US, so at least she'd been given her due later in life, while also being free from the demands of fame and expectation). The exhibition placed her name and her work firmly where it belonged: at the forefront of the movement of avant-garde artists known loosely as the New York School, alongside her late husband Jackson Pollock. Her collage paintings were a revelation, as was the three astonishing and visceral 'de Kooning-esque' paintings painted immediately after Pollock's death in a car crash, one of which appeared to depict three fleshy, distorted and abstracted figures twisted in a bloody, deathly embrace. Watch my short video of the Lee Krasner exhibition here.
All the Rembrandts, Rijksmuseum

15 Feb to 10 Jun
Marking 350 years since Rembrandt's death, the Rijksmuseum pulled out all the stops with an immense survey of the Golden Age Dutch artist displaying every painting, print and drawing in its vast collection. The Jewish Bride, the full-length portrait of Jan Six, the old woman poring over her bible, down to the smallest squiggle of a drawing in its possession. The Night Watch stayed in in situ in the museum's Gallery of Honour, before being taken down at the exhibition's close and displayed in a specially built glass box so that visitors can view the restoration work it's undergoing for the next six years. Read my feature on the mystery and controversy of The Night Watch.
Portrait of the Artist: Käthe Kollwitz, British Museum

12 Jan to 12 Sep

This touring exhibition, which opened at Birmingham's Ikon gallery in 2017 finally arrived at the British Museum, which houses the vast collection of the German artist's works on paper. Working in etching, woodcuts and lithography, Kollwitz really is among the great printmakers of modernity, and as the wife of a doctor with a home practice tending to Berlin's poor, she witnessed the destitution and brutalising deprivation of his patients. A committed pacifist and communist, she was politically engaged throughout her life and saw her work as an extension of this engagement, combining realism, expressionism and symbolism in work confronting the scourges of war and capital.
Harald Sohlberg: Painting Norway, Dulwich Picture Gallery
13 Feb to 2 Jun
Silhouettes of trees in the orangey hue of a night sky, fisherman's cottages nestling in a silent copse, a row of brightly coloured artisan's cottages, and majestic ice-capped mountains brooding under an inky sky – Harald Sohlberg's brilliantly vibrant paintings of the Norwegian landscape and its little villages are heightened and idealised imaginings embedded in the extraordinary Nordic environment. Full of hushed mystery, the paintings are both dreamlike and meticulous in their observations.
Trees, Foundation Cartier for Contemporary Art, Paris
12 Jul to 5 Jan
This was a vast and ambitious exhibition featuring artists, naturalists, indigenous artists of the Amazon Basin and those whose scientific field explores the 'sensory intelligence' of trees. There were so many wonderful and arresting works – the huge canvases of Brazilian artist Luiz Zerbini dominated the ground floor – and there were drawings, prints, installations and films exploring our emotional attachment to trees and in what ways they continue to inform our imaginations; how trees shape our urban environments and how our urban environments are shaped in turn. Clearly, we are turning our minds to trees as the 'lungs of the world' as cataclysmic forest fires continue to burn. Read my review of the exhibition here. In London in March, the Hayward Gallery opens with Among the Trees, similarly exploring our relationship to trees and forests.
And then there was this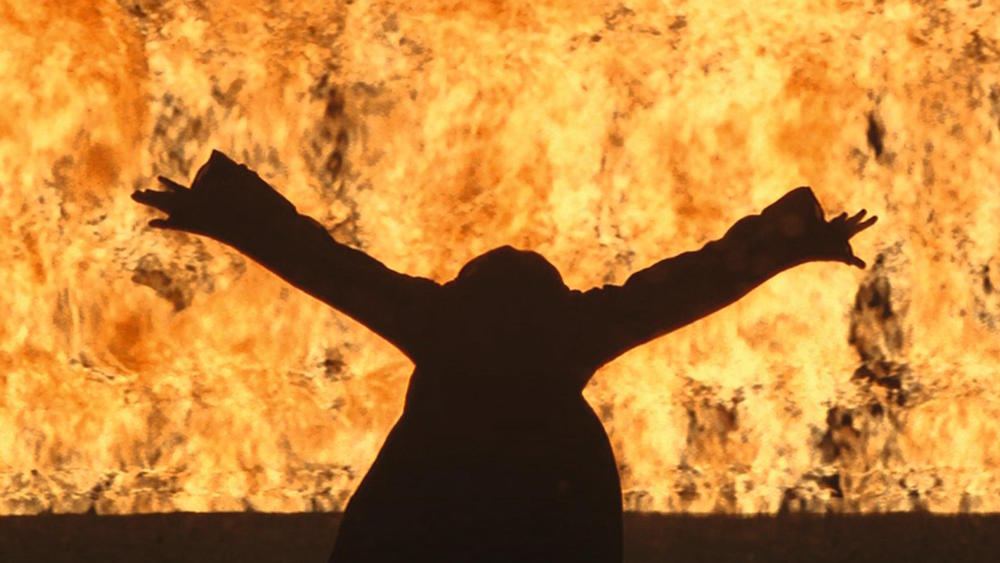 Bill Viola and Michelangelo, Royal Academy
26 Jan to 31 Mar
There were a couple of other contenders for my Turkey of the Year, or at least ones that are worth mentioning in the category. Hito Steyerl at the Serpentine Gallery and the National Gallery's Leonardo: Experience a Masterpiece which both relied heavily on interactive technology, both fell flat. How could this much research and intellectual input end up being and feeling so pointless, so empty,  belonging to the 'all spectacle but no trousers' variety? Anyway, after a moment's reflection, they don't get the prize, because it goes to Bill Viola and Michelangelo: Life, Death, Rebirth at the Royal Academy, which just got more heavy-handed and absurd and theatrical and crazily evangelical the further you proceeded in this chronologically arranged survey (is Viola the art world's Andrew Lloyd Webber?), ending in a film of a silhouetted Christ figure falling into raging flames. I hated every minute of this kitsch spectacle, but at least Michelangelo survived the encounter with his reputation intact.
You'd be daft to miss all this: good things in the year ahead
The Four Ages of Woman, Bethlem Museum of the Mind
8 Jan to 25 Apr
Highlighting a diversity of artistic observations on the lived experiences of women from childhood to old age, and reflecting on experiences of mental illness and distress.
Picasso and Paper, Royal Academy
25 Jan to 13 April
Picasso wasn't just extraordinarily inventive on paper but with paper, pushing collage as a 20th century art form and making 3D objects using anything from newspapers to napkins. A master printmaker too, his Vollard Suite, which is featured, is his most ambitious series of etchings.
Van Eyck: An Optical Revolution, Ghent Museum
1 Feb to 30 Apr
It'll be a year of Van Eycks in Ghent this year, the most exciting of which is An Optical Revolution which will have, as its centrepiece, the artist's Ghent Altarpiece, plus paintings by him and his contemporaries. Unmissable.
Leon Spilliaert, Royal Academy
23 Feb to 25 May
The Belgian symbolist artist with enigmatic and atmospheric paintings of angst and solitude.
Artemsia Gentileschi, National Gallery
4 Apr to 26 Jul
The great Italian Baroque artist with a show all of her own. At last.
Lynette Yiadom-Boakye, Tate Britain
19 May to 31 Aug

The Turner-nominated artist's deeply evocative and fluidly painted 'portraits' of fictitious subjects.
Jean Dubuffet, Barbican Art Gallery
to
Viscerally powerful mixed media paintings by the French artist who coined the term Art Brut.
3 Oct to 24 January 2021
Marking the 500th anniversary of his death, this survey covers Raphael's complete career, short as it was (he died in 1520 aged just 37).
6 Oct to 17 Jan, 2020
Neon signs, film projections, 3D videos and holograms by the restlessly inventive American conceptual artist.